2017.02.15 Wednesday
歴史遺産――どんなブツでも売れまっせ。
2月15日
歴史遺産――どんなブツでも売れまっせ。
 David Bowieのコレクションを観に行って以来、Sithebyからは、時々、カタログのお知らせが来るようになった。
 あの時、日本からも人が来ていたが、全英から熱心なファンが訪れて、喰い入るように一つひとつ観ていたのはちょっと凄い感じがあった。
 熱心なファンにとって、David Bowieは彼らのジンセイの一部であり、David Bowieのジンセイは彼らのジンセイの証でもあるのだろう。
 近頃、彼の絶頂期は、ほぼ1980年頃までという特定のされ方をしている。それが、多分、音楽史的にも、英国の社会文化史的にも定着していくことになるだろう。とうとうその辺りまで来てしまった。
 近頃は、こうして、1977年6月7日のSex PistolsのプロモーションのブツまでSotheby'sで売りに出ている。
http://www.sothebys.com/en/auctions/ecatalogue/2016/rock-roll-n09587/lot.107.html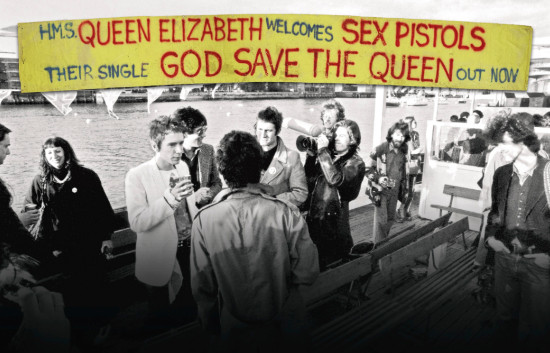 推定価格は3万ドルだったのが、5万ドルで競り落とされた。
 というわけで、1977年6月7日、その場に立ち会っていた人々の話を以下に。最下段にはJon Savageの話を。
Tony Parsons, author and journalist, then on NME: Sid [Vicious, the band's bassist] looked fantastic here. I remember offering him a line that night, but he didn't want any – ironic considering what happened. He had lovely manners though: "Thank you for offering", as if I'd offered him a cup of Earl Grey. But John Lydon [aka Johnny Rotten] was built for that moment.
Allan Jones, editor of Uncut, then on Melody Maker: Shortly before the Pistols played, police boats started circling us as we approached Parliament. I wouldn't have wanted to be anywhere else at that moment. The band started with "Anarchy in the UK", followed by "God Save the Queen", "No Feelings", "Pretty Vacant", and when the power was pulled Rotten was screaming "No Fun".
Dennis Morris, photographer: This was one of their best gigs – they had time to play for once. To create hysteria, Malcolm would book them into tiny venues; it would be pandemonium. That's why they loved soundchecking.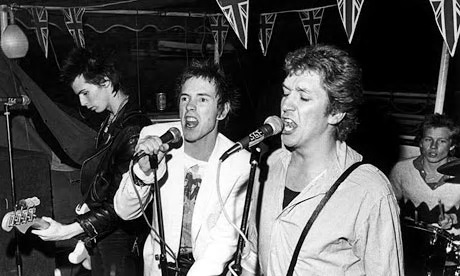 Jon Savage,author of England's Dreaming:Before the police came, it was a great party. Make that a capital G."By the summer of 1977, the Sex Pistols were one of England's most controversial bands. Following a serious of incidents — swearing on live TV and being fired by two separate record labels, among other things — it seemed a given that their record would be banned by records stores around the country. After being picked up by Virgin Records (the only label willing to work with the band at the time) the label began making preparations to release and promote Never Mind the Bollocks, Here's the Sex Pistols. A week before the release of the second single off the album, "God Save the Queen," the Pistols coordinated an inspired publicity event, timed to coincide with the Queen Elizabeth II's Silver Jubilee celebration.
Assorted journalists, record executives, and insiders were invited to witness the Sex Pistols perform on a boat sailing down the River Thames; the invitation read: "RIVER PARTY. June 7th 1977. Arrive 5.30pm. Boat 'Queen Elizabeth' leaves Charing Cross Pier 6.15pm. Return to Charing Cross 11.45pm. To get on board you must present this invitation. It admits one, and one alone. Discretion appreciated." As attendees boarded the Queen Elizabeth (including Richard Branson, Jon Savage, Vivienne Westwood, and, of course, the Pistols' infamous manager Malcolm McLaren) they would be have greeted with two large yellow vinyl banners, which Jon Savage described: "Banners have been unfurled down the sides: one reads 'QUEEN ELIZABETH, THE NEW SINGLE BY THE SEX PISTOLS, GOD SAVE THE QUEEN' - distinctly low profile."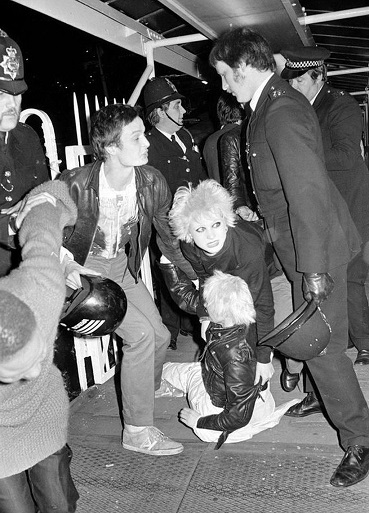 倒れているのはVivienne Westwoodではないかな。Debbie Juvenileが助け起こそうと
 しているのだけど。
By all accounts, the event began slowly, but by the time the Pistols began playing (timed to coincide with the boat passing the Houses of Parliament), the party was getting underway, even out of hand. According to photographer Dennis Morris, who was on board that day: "The boat trip was Malcolm's idea…. [he] wanted to be arrested that day because he wanted to make his statement." Police boats eventually surrounded the Queen Elizabeth, forcing it to dock. Altercations ensured, in Savage's words: "We dock. The power is off. The bar is closed. Suddenly no more party. Suddenly a lot of police on the quay. Altercations begin. Nobody wants to leave. The police want us to leave. So does the owner. The owner can terminate the contract of hire at any time. Small print baby."
Journalist Tony Parsons also reported in NME on the arrests, and McLaren's antics, relaying: "The scenes that occurred when invading cops broke up their Jubilee Day river party have left me with something that will remain long after the bruises have faded: it's unlikely that I will ever again be able to look at a member of Her Majesty's Metropolitan Police Force without feeling sick… after a token protest, we all went quietly into the night. Apart from McLaren, who came down the gangplank screaming in their faces." McLaren was charged with "Using insulting words likely to provoke a breach of the peace;" then-girlfriend Vivien Westwood with "Obstructing a policeman;" and multiple other Sex Pistols insiders were charged with assault, obstruction, and "threatening behavior." Westwood was ultimately found guilty and levied a fine of £15. Notwithstanding the legal woes, the event was a great promotional success. As Richard Branson later reflected: "…it certainly did the reputation of The Sex Pistols and Virgin no harm at all. God Save The Queen sales went through the roof and the band's place in rock 'n' roll history was confirmed."